Toyota's New Official Tundra Tonneau Cover
Jason (Admin) | Jul 30, 2008 | Comments 10
Alan just sent us an email alerting us to the new official Toyota tonneau cover for the 07-08 Tundra. Evidently, it's so new that many dealers haven't heard about it yet. Here's what we were able to get our hands on: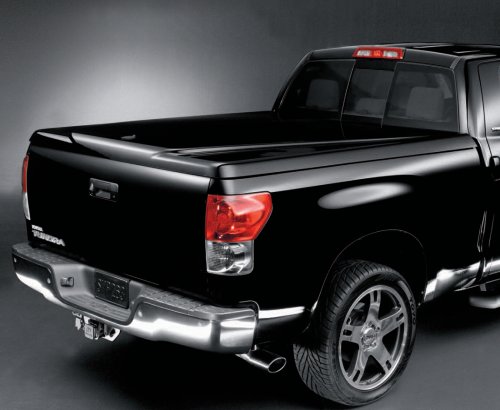 Here's an image from the brochure for Toyota's official tonneau cover for the Tundra. Note the single recessed lock mounted rear center. While there's only one lock, there are dual latches for extra security.

One of Toyota's newest accessories for the Tundra, the tonneau cover is available in a variety of colors (all exact matches of new Toyota paint). It has a smooth, polished factory finish and it's covered by Toyota's standard 3 year/36 mile warranty. The single center lock is recessed into the cover so it doesn't take away from the appearance, and there's a detachable battery powered LED light under the lid that can either serve as a cargo light or be carried around as an emergency flashlight. Opening and closing the tonneau is assisted by two gas struts, and Toyota has certified that the tonneau is weather and water proof. Detaching the cover is supposed to be quick and easy – the latching mechanism just 'snaps' in and out. It's also supposed to be very lightweight.
Read the official Toyota tonneau brochure (PDF – 0.97 mb).
Here's our take on this official Toyota accessory.
The official factory paint match is a great feature. Often times after-market companies have trouble exactly matching new vehicle paint.
The detachable LED light seems like a cool feature.
The latch mechanism and installing/removing the tonneau sounds simple and easy.
The warranty isn't any better than many after-market tonneau covers.
The tonneau cover is INCREDIBLY OVER-PRICED.
While it's great that Toyota is now in the tonneau cover business, we think that missed the mark by about $500. Official list price is $1,495 ($1,120 dealer cost) for the short bed tonneau, $1,525 ($1,150 dealer cost) for the standard bed length. Considering that you can get a high quality tonneau cover (not painted to match of course) from any number of manufacturers for less than half that amount, it's a tough sell.
HOWEVER, if you really want a painted to match tonneau, and if you want to avoid buying a heavy fiberglass unit, then the money isn't too crazy. Still, a quality painted tonneau can be had at any number of local topper shops for about $1100. Don't pay extra for the Toyota warranty, by the way. A 3 year/36k mile warrant is standard for most tonneau and topper manufacturers.
FYI, the official Toyota Tundra tonneau is actually made by Penda Automotive. Here's Penda's official sales pitch for their Venture tonneau covers. You can buy the tonneau cover from Penda directly (and save some money), but it's not exactly the same. It's not painted to match, and it doesn't have the LED light.
Bottom line: If you need a tonneau cover and you don't care about it being painted to match, Duracover, Extang, Bakflip, Undercover, and Truxedo are all better and less expensive options. However, if you need your tonneau cover to match your truck's paint job, the official Toyota tonneau cover might be worth considering. Just shop around first.
*Here are some part numbers you can use just in case your local dealer doesn't know about these yet.
PT271-34071-02 – Standard bed length painted black.
PT271-34070-02 – Short bed length also painted black.
Filed Under: Toyota Tundra Accessories
Comments (10)