5 Cheap Performance Tips For Your Truck
Jason (Admin) | Aug 24, 2009 | Comments 13
Do you enjoy tweaking your truck to squeeze out every little bit of power? Who doesn't. When Henry Ford built the first Model T with a pickup bed in 1925, somewhere someone was trying to figure out a way to make it a little faster.
Of course for truck owners, it's not really about speed…it's about power. Power to tow, haul, pass on the freeway, head up to the mountains, or show that snob in the Range Rover who thinks his wittle SUV is fast who really has the big motor.
The most common truck performance accessories are air intakes and exhaust systems. However, if you're short on cash, or if you don't feel like spending half your truck payment (or more) on an aFe air intake, here are some ideas for making your truck more powerful without spending more than $50.
1. Clear out all the crap. Do you roll down the road with a bunch of "stuff" in your pickup? Hauling around that old roll of carpet, that box of clothes you're supposed to drop off at Goodwill, or that extra 50 pounds worth of "who knows" that just seems to accumulate is wasting power (and fuel). Get rid of just a few pounds of extra weight, and your truck is faster (and your fuel economy might be better too). Cost: Free
2. Check your tire pressure. Here's another fuel economy tip that also has a performance advantage. Low tire pressure isn't hurting you "off the line", but on the highway under-inflated tires can add significant resistance. Properly inflated tires improve high-speed passing performance, reduce tire wear, and improve gas mileage…it's a win-win-win. Cost: Free
3. Replace your air filter. A dirty air filter is a power killer. Depending on your local climate, where you drive, etc., your air filter can get dirty…quick. After as little as 20k miles, your air filter could be clogged. You can replace your filter with another plain old paper air filter for $20-$30, but your best bet is to go with a K&N truck air filter. They add power AND they boost fuel economy. Cost: About $50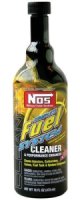 4. Clean your fuel injectors. Fuel injectors can become clogged with gunk over time, hurting performance. A bottle of fuel injector cleaner isn't going to add a second to your next quarter mile time, but it will help make sure your injectors are running as clean as possible. A single bottle of NOS fuel system cleaner should last at least 20k miles. Cost: About $12.
5. Change the oil. When it comes to cheap performance, fresh oil is king – especially if your motor is older. Brand new oil lubricates best, and after a few hundred miles of use (especially during stop-start city driving), regular oil loses some of it's premier lubricating abilities. Unless you're running pure synthetic oil, changing the oil earlier than necessary will give you a little performance boost. Cost: The price of an oil change
That's the big list – anything we're missing?
Filed Under: Maintenance Tips
Comments (13)