Author Archive for Benjamin
Benjamin Hunting is a freelance automotive writer who has been involved in racing, restoring and writing about cars and trucks for more than a decade. In his spare time he enjoys keeping the shiny side up on track days. You can find out more about Benjamin's writing at his website, http://www.benjaminhunting.com.
We have recently been privileged to discuss the world of aftermarket ECU tuning in depth with Jack from Unichip, one of the pioneering companies when it comes to engine tuning software. This post wraps up our Q & A series with Jack, and we finish things off by posing some questions about the dark and mysterious details of the computer coding required to achieve the outstanding results offered by Unichip's tuning products.
The Toyota Tundra, like most trucks, has a fairly large number of after market replacement shock absorber options. In addition to the standard KYB shocks that are available on almost every vehicle ever built, the primary after market shock brands that cater to the Tundra are Rancho, Skyjacker, Tuff Country, Fabtech, and Pro-Comp. We've put together a quick roundup of the shock products offered by these five companies.
In our last Q & A post with Jack from Unichip, the ECU tuning specialists, he offered us some very interesting opinions on how engine modifications interact with air intakes and exhaust systems.  In this post, Jack blows open some of the myths that have accumulated around the idea that chip tuning can save money at the gas pump, as well as how the ECU's engine management affects specific driving activities like towing or drag racing.
In this second part of our Q & A with Jack from Unichip (read part one), one the automotive aftermarket's premier chip tuners, we dive a little deeper into the often confusing interaction between performance accessories and engine computers, and how these interactions affect a performance chip's programming.
In other words, if you want to learn a little bit about how air intakes and exhaust systems impact your truck's computer system, read up.
We have been having an email conversation with Jamie Joyce, who manages Automotive R & D for Doug Thorley headers. In our previous post we got some interesting background information on the differences between Doug Thorley headers and a stock Toyota Tundra exhaust manifold. This time, we'll get a chance to hear some of Jamie's answers regarding the thorny issue of short tube headers versus long tube headers in the pickup truck world.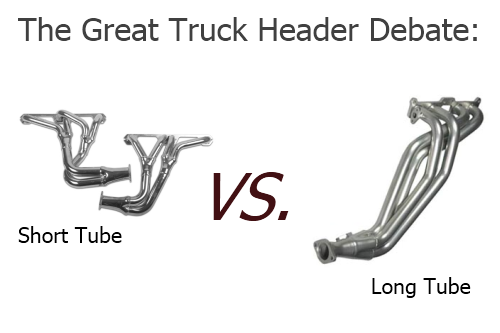 We started out by mentioning to Jamie that both the short and long tube header options offered by Doug Thorley appeared to offer a similar increase in low-end torque, with only a slight advantage going to the long tube units. This seemed to go against the conventional wisdom in the truck performance world that short tube headers can actually rob an engine of low rpm torque, especially in comparison to stock manifold designs.
Jamie told us that historically,