Author Archive for Jason (Admin)
Jason Lancaster is the editor and founder of TundraHeadquarters.com. He has nearly a decade of dealership experience buying, selling, and maintaining vehicles, and much of that time was spent working at Ford and Toyota dealerships.
For the last 20 years or so, Toyota has bragged about their industry-leading resale values. Across the board, year after year, Toyota products are noted for their higher-than-average resale value. The new Tundra is no exception when it comes to high resale values. Both Kelly Blue Book and Edmunds.com found the Tundra to have the highest resale value in it's class in their most recent studies. Recent data published by AutoBrag.com, however, seems to indicate that the Tundra's resale value is slipping.
Bluetooth technology has radically changed the way that people integrate personal electronic devices into their automobiles. The term "Bluetooth" refers to a protocol for wireless data transfer that allows different types of consumer electronics – cell phones, navigational systems, and mp3 players, for example – to communicate with each other. Probably the most common instance of Bluetooth technology in use are wireless headsets for mobile phones. These small earpieces are paired with a cell phone that can be as far as 12 feet away, allowing hands-free operation of the phone while driving or working.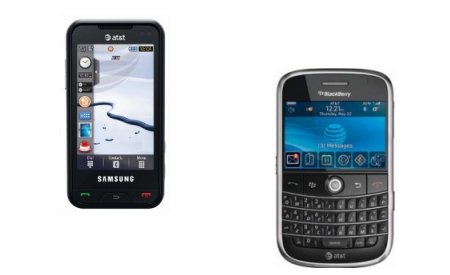 The Blackberry Bold (right) and the Samsung Eternity (left) are two new popular Bluetooth enabled phones that are compatible with Toyota"s Bluetooth systems.
Since cellular phones and driving safety have become inextricably linked over the past few years, many municipalities have passed laws banning the use of hand-held phones while driving. This has lead to a surge in the popularity of Bluetooth earpieces and headsets, as hands-free phone use is still usually permitted. Over the past few years, Toyota has helped to lead the charge to incorporate Bluetooth technology into their vehicles in order to take hands-free cell use a step further.
In addition to announcing the new 4.6 L V8 for the 2010 Tundra at the Chicago auto show, Toyota also debuted a new Platinum luxury package for the new Tundra.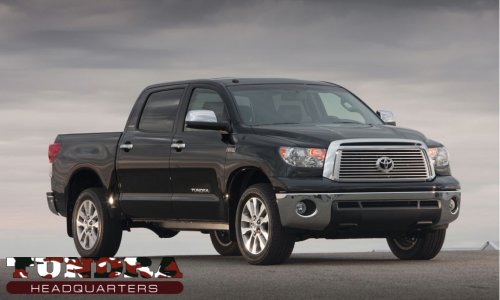 The staged Toyota media photos do a nice job of making the Tundra look mean. Make sure to study the interior picture below – this Platinum package is beautiful.
A few weeks ago, we acquired some photos and video of the 2010 Toyota Tundra work truck package that was shown at the San Diego auto show. At the time, it appeared that the 2010 Tundra would be more of the same. Rumors of a new Tundra 4.6L V8 surfaced a few months ago, but we determined that the 2011 Tundra would get the new engine (along with some other improvements) and our sources seemed to agree.
Evidently, Toyota has decided to step-up their time frame – the new 2010 Tundra will feature the new 4.6L V8. Based on the larger 5.7L, the new 4.6L is a short-stroke version of the big motor that generates 381hp. The new 4.6L will replace the nearly 10 year old 4.7L.
Here are the benefits of the new 4.6L Tundra motor: