Author Archive for Jason (Admin)
Jason Lancaster is the editor and founder of TundraHeadquarters.com. He has nearly a decade of dealership experience buying, selling, and maintaining vehicles, and much of that time was spent working at Ford and Toyota dealerships.
This might be the coolest Nascar gimick I've ever seen: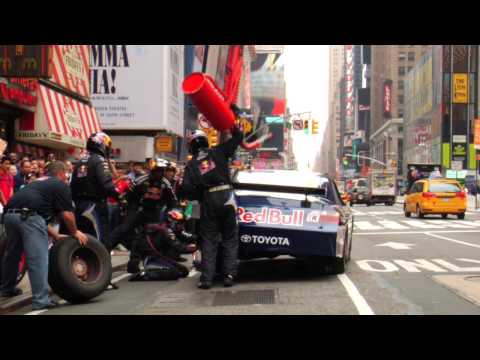 There are a wide range electric conversion options for truck owners interested in going full electric. Here are the basics:
Truck type: Until recently, smaller trucks were preferred over their larger cousins due to weight issues, but advances in battery technology had enabled even full-size drivers to take advantage of an completely emissions-free ride.
Battery Options: Inexpensive conversions typically use lead acid or absorption glass mat (AGM) batteries – just like the battery under your truck's hood right now. It's not uncommon for amateur conversions to fill the truck bed with as many as two dozen 6 or 12 volt lead-acid or AGM batteries to go full electric. If you want to preserve your pickup bed for hauling (go figure), batteries can also be located in the passenger compartment, under the hood, or anywhere you can make them fit.
If money is no object, then nickel / metal hydride (NiMH) batteries, which are identical to those used in vehicles like the Toyota Prius, can be used for conversions. If money is really no object (and that's not just an expression), then ultra-high end lithium ion (Li-ion) batteries can be used. Both Li-ion and NiMH batteries may require special cooling systems, but they are lighter than lead-acid and AGM batteries and take up far less room in a typical conversion.
This news is a little old, but it's good to hear: Toyota is oficially ramping up production of the 2010 Tundra.
Bob Carter, general manager of Toyota Division, said, "We see a turnaround coming." The company will therefore increase North American production by 65,000 units over the previous plan for the three-month period. Toyota will increase the production of six of its most popular models: the Camry, Corolla, Sienna, RAV4, Tacoma, and Tundra.
The question before us – how many of these "extra" 65k vehicles will be Tundras?

For years, casual observers of the auto industry were quick to point to the UAW as a source of trouble for GM, Chrysler, and Ford. Tales of do-nothing jobs banks and $70/hour compensation were the source of a popular disdain for the UAW and unions in general, and the UAW found it very difficult to attract new members in this climate.
Today, things are quite a bit different. While it says here that the UAW wasn't perfect, anyone with a real knowledge of the auto industry will acknowledge that the UAW deserves only a part of the blame for the meltdown of GM and Chrysler. The fact is, terrible management, poor quality, and poor designs were the primary sources of GM and Chrysler failure.
The UAW hall in Bowling Green, Kentucky (pictured) might be the most important union battleground of the 21st century.
The good news for the UAW is that all of this is behind them now. The UAW is now more likely than ever to recruit Toyota, Honda, and Nissan workers over the next 2 to 5 years. Here's why:
Toyota Tundra fans have been waiting on pins and needles for an "H.D. Tundra", or heavy-duty Tundra, ever since Toyota announced they were working on a 3/4 ton Tundra back in 2005. Originally promised to follow soon after the light-duty Tundra (the current model), our sources are now saying that Toyota won't be introducing an HD Tundra anytime soon…if at all.
That's right – it's far from certain that Toyota will ever produce a 3/4 or 1 ton Tundra. As of July 2008, we felt the HD Tundra was at least five years away. Today, we're wondering if Toyota is ever going to produce a 3/4 or 1 ton Tundra. Perhaps the market for H.D. trucks is going to shrink so much that Toyota's current light-duty truck is "heavy duty enough."
In other words, what if Toyota is already producing the H.D. Tundra?