Sulastic Rubber Springs and Tundra Bed Bounce
Jason Lancaster | Mar 26, 2010 | Comments 19
Many Tundra owners have found that their truck suffers from something we call "bed bounce," which can be very pronounced and uncomfortable for some Tundra owners at highway speeds.
Note that we emphasized the word 'some.' Many Tundra owners report their trucks ride perfectly fine, while others say the ride is very harsh. Here at TundraHeadquarters, we've noticed an overall decline in the number of complaints after the 2008 model year, which might seem to indicate that 09′ and 10′ Tundras don't have the same problem.
If your Tundra suffers from bed bounce, there are a few solutions. First, it seems that changing shocks can mitigate bed bounce. We've also found that the spare tire can have a damping effect if it's mounted with a foam pad. Finally, we've profiled a commercial treatment for the problem known as the Willy Bar. Today, we'd like to add one more item to the list – Sulastic Rubber Springs.
Based on test data forwarded to us from Spectrum Technologies, Inc., Sulastic's Rubber Springs are a legitimate option for Tundra owners dealing with bed bounce. Spectrum specializes in NVH (that's noise, vibration, and harshness), which means they're fully capable of testing a Tundra with bed bounce.
The report shows that Sulastic's rubber isolators – which mount between the rear leafs and the frame – are an effective treatment:
The Sulastic Isolators made a significant difference in the overall performance of the Tundra. The Sulastic isolators significantly reduced the impact harshness over potholes, railroad crossings and broken pavement. The Sulastic isolators reduced "highway Hop" by 50 percent.
Sulastic has created a video that shows how their system works in the real world (only the music they've chosen is pretty lame)…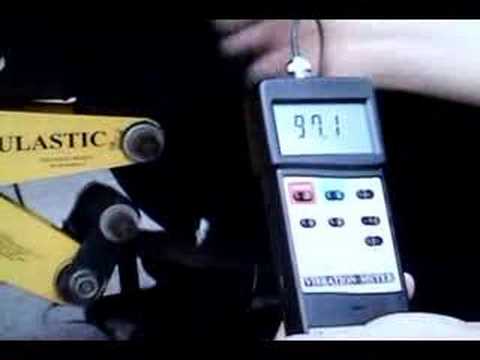 A set of Sulastic springs cost about $500, which makes this option seem comparable to the Willy Bar in terms of price (more on that later). However, unlike the Willy Bar, Sulastic's system won't diminish your effective payload or reduce your fuel economy like adding hundreds of pounds of weight to your truck's bed. Sulastic also claims that, in the time since their springs were tested by Spectrum, the springs been re-tuned them and are now even more effective than before.
Sulastic Springs can be mounted on your Tundra pretty easily if you have the right tools. If not, your local shop or dealership shouldn't charge more than a couple hours of labor. They don't effect your factory warranty (no after-market parts will effect your truck's warranty), and Sulastic says they should last about 10 years with normal use.
We found some reviews of Sulastic's kit for the Tundra on TundraSolutions (here and here), and the feedback isn't too exciting. Most of the people who have tried it weren't too impressed. HOWEVER, it's important to note that Sulastic recommends buying new shocks to go along with your new Sulastic springs/isolators, and based on the forum posts it doesn't look like those Tundra owners added both Sulastic's kit and a new set of shocks.
SO, if you buy a softer set of adjustable shocks for the rear plus a set of Sulastics, Spectrum's testing says that you'll see a pretty sizable reduction in the bed bounce problem.
Here's What We Like:
Sulastic's kit doesn't reduce payload capacity like adding sand bags or the Willy Bar
The report from Spectrum said that Sulastic's kit improved vehicle stability and reduced lean while cornering
The report says that bed vibrations were reduced
Here's What We Don't Like:
$500 is a lot of money for a set of rubber springs
Sulastic warns the springs aren't completely effective unless you buy a new set of shocks to go with them
Bottom Line: Until we drive a set of Sulastics, we'll reserve judgment. However, if you're desperate for a solution and don't like adding weight the bed of your truck (the cheapest and easiest way to "solve" the problem), Sulastic's kit might be worth trying. On the other hand, $500 for the springs + new shocks + installation = more than the Willybar, another kit that's been shown to reduce Tundra bed bounce.
Anyone with first-hand experience of Sulastic's kit, please comment below.
Filed Under: Toyota Tundra Accessories
Comments (19)