Steam Car Wash – Get Clean The 'Green' Way
Benjamin | Jan 26, 2011 | Comments 6
Car wash technology has moved forward ever so slowly over the past several decades, advancing from prickly bristle brushes to no-touch high pressure water jets to modern units which use a combination of soft foam padding and blasts of water to bridge the gap between both worlds. While automatic car washes have their place, some people still prefer to hand wash their vehicles in their own driveways, taking a Sunday afternoon to bond with their cars and trucks while scrubbing down sheet metal and glass to a nice, even shine.
The trouble with hand washing at home is that it produces a lot of waste water – and depending upon what types of cleaners that you use, it could also potentially lead to runoff that is filled with chemicals that are fairly nasty to the environment. It was with these facts in mind that Steamericas introduced the Optima Steamer car wash system.
Steam Instead of Stream
What sets the Optima Steamer apart from traditional driveway washing techniques is that it replaces a steady stream of water from a high pressure washer or a garden hose with what it calls "temperature-safe steam." The Optima's dual steam guns allow two people to tackle a single vehicle at the same time, and the company claims that it takes only 15 minutes and a single gallon of water to clean a normal-sized sedan.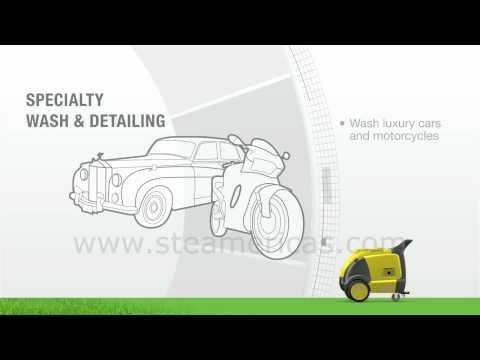 A single gallon of water to clean an entire car is certainly an impressive accomplishment. Steamericas states that steam is more effective than a stream of cold water when it comes to breaking the bonds that hold dirt and grime to an automobile's finish. Using steam does not remove wax, either, as long as the steam gun isn't held super close to the paint for an extended period of time (the company recommends four to six inches as a safe distance).
The Optima Steamer Device
The Optima Steamer is essentially a boiler, and it draws its water from a standard hose attachment. A diesel engine kicks on and off in order to power the boiler as needed, with steam available within two minutes of the device being turned on. The Steamer is bulky – maybe a bit more so than traditional power wash equipment – but it does come with a set of wheels to help cart it around. The steam that is generated is in the temperature range of 150 to 167 degrees Fahrenheit, which sounds hot, but in its demonstration videos Steamericas shows its models holding their bare skin directly in the steam spray, indicating that injury is not a concern with the product.
Steamerica explains that the Optima Steamer can also be used to clean a vehicle's interior and engine, as it is safe for most upholstery and carpeting. The company does caution about getting the steam anywhere near vehicle electronics, however, which means it's probably best to avoid both the passenger compartment and the engine bay with the device.
Is it Worth It?
Is the Optima Steamer really a device that the market was waiting for, or is it the answer to a question that no one was asking? It really depends on how obsessive you are about protecting the environment and keeping your car clean.
One of the Optima Steamer's claims is that it clean a car completely scratch free, and without any soap being used. The demo video shows the user gliding along the paint just behind the steam gun with a microfiber towel – and no soap in sight. For anyone who has spent a lifetime obsessing about protecting their car from spider web scratches, this seems like a definite no-no, but Steamericas stands behind its advertising.
There is no question, however, that the Optima Steamer radically reduces water use and eliminates the need for car wash soap. For anyone under a water ban due to long summer drought, or for those who care about polluting their local aquifer, the Steamer's ability to conserve H20 is impressive.
The Bottom Line: If you are willing to store a bulky steam cleaning unit and keep a supply of diesel fuel on-hand to use every time you need to wash your car, then maybe the Optima Steam Cleaner is for you.
What do you think – can steam and microfiber clothes really clean a car?
Filed Under: TundraHeadquarters.com
Comments (6)