TrophyKart – Fun Alternative to Full Size Trophy Truck Racing
Benjamin | Nov 12, 2010 | Comments 0
Trophy trucks are some of the most exhilarating adult toys that most of us will never get a chance to drive. Pounding across the desert landscape at well over 100 miles per hour in a custom-built truck that can take all of the abuse that the harsh landscape can dish out might unsettle your kidneys, but the adrenaline rush that comes along with the experience more than compensates for any temporary discomfort. Check out this video: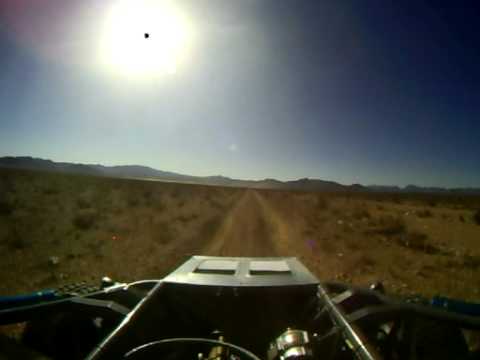 While the upper tiers of trophy truck off-road racing might be out of the reach of anyone who isn't a professional driver or a trust-fund inheritor, for the rest of us there are Trophy Karts. These pint-sized all-terrain thrill rides can be thought of us go-karts on steroids – or rather, go-karts with a lift kit and the kind of suspension that doesn't mind the occasional aerial maneuver.
Built by the aptly-named TrophyKart, these small vehicles come in three different flavors. Despite their diminutive size, the amount of engineering and quality of components installed in each of the three vehicles is head and shoulders above a home-brewed solution. The lineup starts out with the entry-level Jr. Kart but moves quickly into the Elite Kart, which provides a fun middle-ground when it comes to capabilities and cost. The top of the line Mod Kart features a 50 horsepower 450cc engine that offers speeds of up to 90 miles per hour, combined with what TrophyKart claims is a race-ready suspension capable of absorbing the punishment of a full-on trail run. A five-speed sequential transmission makes gear shifts easy while bouncing up and down, and this largest of the three Trophy Karts offers a wheelbase of no more than 73 inches and weighs an ultra-light 620 lbs.
Costs vary between manufacturers, but a 250cc Trophy Kart can be had for less than $10k. Top of the line 450cc Karts may run over $30k. While most of these karts are driven by kids, there are quite a few adults who enjoy racing them because of their low cost.
Trophy Karts are designed to be run in the TrophyKart series, which offers both stadium and off-road competition for kids and adults who want to simulate their trophy truck dreams in a more affordable setting. Newcomers can even take advantage of TrophyKart schools that are oriented towards teaching both advanced and basic driving techniques for use in the scale-model racers. In a sport that is rapidly filling up with competitors, TrophyKart is still a leader when it comes to putting together race-ready solutions for weekend warriors and dedicated series participants alike.
Although Trophy Karts are competition-bred, they can still fill a role as a fun toy for those who would love to replace their ATV with something a little more unique. TrophyKart offers a fun way to get behind the wheel of a dedicated off-road rig that doesn't take up too much space in your garage.
Filed Under: TundraHeadquarters.com
Comments (0)